"HOPE" – Ballerina Pink
» KIDS
»

"HOPE" - Ballerina Pink
$79.00
Send HOPE and a SMILE to a child in need – cuddly and comforting ~~~
We donate SMILE and HOPE pillows to children who are facing physical and emotional challenges. They are also for sale to our customers. 50% of the proceeds from the sale of this pillow will be donated to organizations helping children in need. Pillows may also be purchased and shipped directly to a specific organization or child. A card acknowledging your donation to the gift recipient will be included.
A small act of kindness can have a big impact in the life of children who need support. 
Make it personal just for her – select her favorite colors and add her name. We've added a special pocket on the back – a perfect place for notes, cards, pictures, etc. Appliqués may vary, but they are all very uplifting and cheerful- guaranteed! PHONE ORDERS ONLY
Our motto, AB4C keeps us working hard to help make this world a better place for kids.
We give both product and financial donations to organizations helping
abused children and children with serious illnesses.
AB4C has a new meaning… pass it on!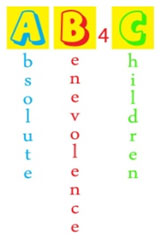 Description:

12 x 24
100% Cotton Chenille
Polyester fill
Spot clean with TLC
Trim will vary
$7 extra for name or 3-word phrase
Grandparent service: Want it wrapped and shipped to your grandchild? We're at your service.

Pillows embellished with accents are recommended for decorative purposes only.