Donielle's Story
Lessons from My Daughter ~ by Demetria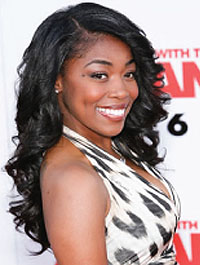 Nothing has touched me more deeply or inspired me more profoundly than the faith and strength of my older daughter Donielle.
There she was again, my daughter Donielle, lying in a hospital bed at Cedars-Sinai Medical Center flashing her big bright trademark smile, and wearing her new purple satin pajamas that   I bought for her. It was the Easter season, a beautiful time of the year. And Donielle's hospital room reflected the season – flowers, fruit, candy and little stuffed bunny rabbits everywhere – gifts from family and friends who visited her daily. Although my daughter's room and her smile were as bright and cheery as our lovely California spring weather, her medical prognosis was grim and sad. My daughter was battling another lupus flare. When Donielle was only 18 years old, she was diagnosed with a disease called Systemic Lupus Erythematosus (SLE) and kidney damage. Lupus is a chronic autoimmune disease, which attacks the skin, joints, the heart, lungs, blood, kidneys and brain. At the present time, there is no cure for lupus.
My daughter was a happy-go-lucky, easy to please little girl who loved to dance. When she was about 3 years old, I enrolled her in dance classes. And by the time she was 16, she had become an accomplished ballerina. At age 17, she received a full scholarship to the California Institute of Performing Arts BFA Dance Program. It was during the first week of college when she began experiencing "strange pains" and unusual stiffness throughout her entire body. As a dancer, stiffness, aches and pains went along with the program. But my daughter said these pains were distinctly different. After a few trips to various doctors who misdiagnosed her symptoms and subsequently prescribed the wrong medications, her condition worsened. And within weeks, she had become completely incapacitated and had to leave school.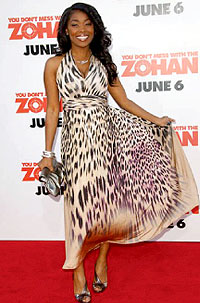 Long before this last flare-up in 2001, which kept Donielle in the hospital for 31days; lupus had left its ugly mark both inside and out. It looked as if her petite body had been put through the ringer; lupus flares, surgery, edema, chemotherapy and steroids had nibbled at her body for years.  She went from a 95-pound graceful ballet dancer with skin as smooth as a creamy fudge bar, to a 150-pound lupus patient covered with deep unsightly stretch marks that disfigured 80 percent of her body. (Massive weight gain is a side effect of Prednisone, the powerful steroid  used to treat lupus) Fortunately, these things didn't seem to impact her life (self-image, dates, job interviews and later dance auditions), the way they impacted mine.
Not once did my daughter lie around the house bemoaning her situation. She got up again and again and attempted to carry on with her life. As for me, I was deeply troubled to say the least, and struggled with feelings of bitterness. Already overwhelmed by the pressures and perpetual demands of single-motherhood, I felt angry with God for allowing this horrifying disease to attack my daughter and disrupt my family.
Even though my faith wavered, I still had enough sense to pray for my daughter. On one particular day as I was praying, I asked God, "What can I do to help my daughter?" For days nothing came so I continued to pray, fast and meditate. Then finally, like a fading vision in a dream, I began to see an image of a blanket. Not just a plain old blanket, but a blanket with scripture on it. At first I tried to dismiss it but it would not go away. It hunted me for weeks. I couldn't imagine that this could be a sign from God. He knew exactly how serious my daughter's situation was. Surely he wouldn't suggest a little old blanket. "How ridiculous", I thought. This was not a good sign, in my opinion. I didn't want to be disrespectful or anything but I needed God to…  Just before I could complete my rebellious outcry, I found myself thinking about the story of David and Goliath from the bible. With this awesome story playing in my mind, I was reminded of how powerful God is and how He can take something small and seemingly insignificant and turn it into to something for his glory. I was again humbled. My skepticism faded immediately and my impudence disappeared completely. I pulled out my sewing machine and got busy. After a few blunders, I eventually succeeded in making a beautiful purple and leopard prayer blanket for Donielle. I added her name and her dog's name on one side and healing scriptures on the other side. The color scheme coordinated with my daughter's unique bedroom. Donielle is a very artsy person and is not afraid of being different. In fact, she gives me the courage to step outside of my comfort zone in many areas of my life. During her 31days in the hospital, Donielle and her prayer blanket became inseparable. She said she loved being wrapped up in her soft, cozy prayer blanket and truly believed that the scripture on it was sending messages of healing to her weakened immune system and shattered kidneys.
While in the hospital, Donielle received many visitors. And never once did she fail to greet them with a big smile and invite them to read the scripture on her prayer blanket. This handmade blanket, with God's words embroidered on it became the talk of the hospital. Doctors, nurses, and even other patients would stop by to see it and to read the scriptures. I received an overwhelming positive response from everyone who saw it and immediately started receiving requests to make blankets for other ill people. It was even suggested that I start a "prayer blanket" business. However, I was content after making Donielle's blanket and wanted to focus all my attention on helping her. But seeing how much joy this blanket brought to so many people and the peace that it gave to my daughter would not let me rest.
Around the 25th day of Donielle's battle, one of her doctors pulled me into the hall and uttered the most frightening words that I have ever heard in my life. "Demetria, I'm sorry.  We have done everything we can for Donielle." He went on to explain that he appreciated her belief in God, her prayer blanket, her optimism, and the many prayer warriors that prayed over her, but that none of it was going to save her life. He suggested that I "prepare" my daughter to face the fact that she was dying.  Dumbfounded and slightly disoriented, I managed to stagger back into my daughter's room. I collapsed into the chair next to her, closed my eyes and prayed to God for mercy.  After a few minutes of praying, I found the courage to look directly at my daughter.  I was not surprised when she flashed a big smile and greeted me with her usual "Hi Mommy". But what did surprise me was a peaceful glow that seemed to radiate from her face. You would have never known by looking at her that she had just undergone kidney failure, surgery, stoke, two blood transfusions and a host of other painful complications. The doctor's words and Donielle's medical charts clearly implied death. But contrary, my daughter's composure exuded life. I saw no need to tell Donielle what the doctor said.
After spending 31 days in a hospital bed, Donielle sprung back to life and walked out of that hospital. Not to underestimate the destructive nature of this deadly disease, for lupus  is a mighty foe and it did some serious damage. Donielle suffered kidney failure and would   have to undergo some form of dialysis. She chose the home method, peritoneal dialysis. With this method, a plastic tube (catheter) is surgically inserted into the abdomen. The tube is then connected to a computerized dialysis machine. Donielle hooked up to this machine for 13 months – 7 days a week, for 10 to 12 hours a day as she waited for a much needed kidney transplant.  Well, on June 11, 2002, a miracle happened. Donielle's prayers were answered, her kidneys were healed. She no longer needed dialysis or a kidney transplant. There are no words to explain how grateful to God we were. The doctors were also lost for words because they could find no medical explanation for Donielle's unexpected recovery. Marveling at her healthy-looking appearance and cheery personality, they simply named her "Miracle". As for Donielle, she knew unequivocally, that her restored health was a sign of the miracle working power of God. And this was the greatest sign of all, in my opinion.
Donielle celebrated the sixth year of her kidney miracle on June 11, 2008. She has shared her testimony at several churches in the Los Angeles area letting people know that her healing was a combination of following doctor's orders and praying to and trusting in God. As for me, well, watching my daughter fight this illness has given me the energy, determination and courage to start my business. And thanks to my daughter, I have learned to trust in the Lord explicitly! My daughter taught me well!
Pillows from Heaven, a part of a greater plan, created by God… This is not the end, God is still working. Come back soon. ~Demetria
__________________________________________________
Have you ever seen Donielle act? check out her ACTING REEL at http://www.imdb.com/name/nm0037702/