Thank Heaven for Little Girls – Dimey Boo – Teachaboo Kids Collection
» KIDS
»

Thank Heaven for Little Girls - Dimey Boo - Teachaboo Kids Collection
$59.00
This is Dimey Boo. She is a cartoon copy of my younger daughter, Dominique – An original indeed, drawn by our own personal artist. She is happily holding a banner that will remind your little princess that we all Thank Heaven for Little Girls.
In addition to being a cheerleader for our pillows, Dimey Boo is busy creating positive things for children.  Visit her on the TeachaBoo website at www.teachabookids.com
MADE TO ORDER – Pillow is 14″ x 14″. The flanged trim is 2 1/2 inches. Has our signature pocket on the back – perfect place for a card, pictures, prayer notes, etc.
Our motto, AB4C keeps us working hard to help make this world a better place for kids.
We give both product and financial donations to organizations helping
abused children and children with serious illnesses.
AB4C has a new meaning… pass it on!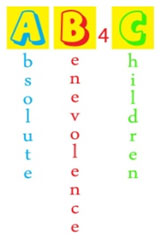 Description:

What makes her so cute?

14 x 14 inches (flanged trim is 3 inches)
The front is 100% cotton. The back is a cotton quilt.
Premium polyester fill
Flanged finish with mitered corners
Pocket on the back (4" x 6")
Has envelope opening on back for easy cleaning (hand wash with TLC)
Grandparent service: Want it wrapped and shipped to your grandchild? We will do it for you.