"INSPIRATION SOMETIMES COMES FROM LIFE'S MOST DIFFICULT CIRCUMSTANCES…"
My name is Demetria, and I love to sew and create. Over the years I have used my sewing skills to make many things for many people. But my most meaningful and creation was a blanket I made for my dying daughter. ~~~~~~~~~~~~~~
I am the owner and creator of Pillows from Heaven – This is the perfect name for my business because everything connected to Pillows from Heaven has been divine intervention, indeed. For example, the idea for my business sprang from a very difficult situation – a situation that only God could have fixed. And let me tell you, He turned everything around for the better.  Good and beautiful things have flourished.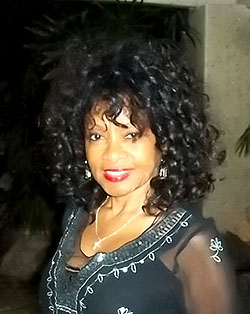 Demetria
It was April 2001 when my older daughter Donielle was hospitalized for 32 days. She suffers from the incurable disease Lupus and she was having a deadly flare up. One day as I was sitting in her hospital room watching as she suffered, a beautiful vision came to me. It was a vision of a blanket. "A blanket?"…  It made absolutely no sense to me. But as I thought about this vision, a sense of peaceful calm came over me, and I instinctively knew I was being guided. God had blessed me with the talent of sewing and I knew that I was to use my sewing skills to make my daughter a blanket. Not just any old blanket – this blanket would have to have spiritual significance and it would have to reflect Donielle's bubbly personality as well. Although this blanket would be made for the sole purpose of comforting my daughter, it would also have a remarkable affect on my life.
The Vision – The Blanket ~~~~~~~~~~~~~~~~~~~~
After meditating on "the vision", I felt hopeful that God would give me the ability to make the perfect blanket for Donielle. The first thing I did was search the Bible for scriptures related to healing and faith. Then I went on a hunt for the fabric. Her bedroom was purple and leopard at the time, so I went with that. Before I put the blanket together, I had the scriptures professionally embroidered on the leopard fleece, and I had her beloved puppy's name "Kahlua" embroidered on the back.  There were many times during Donielle illness that I would visit her and find Kahlua, who is now 15 years old, and Donielle all snuggled up together in the blanket.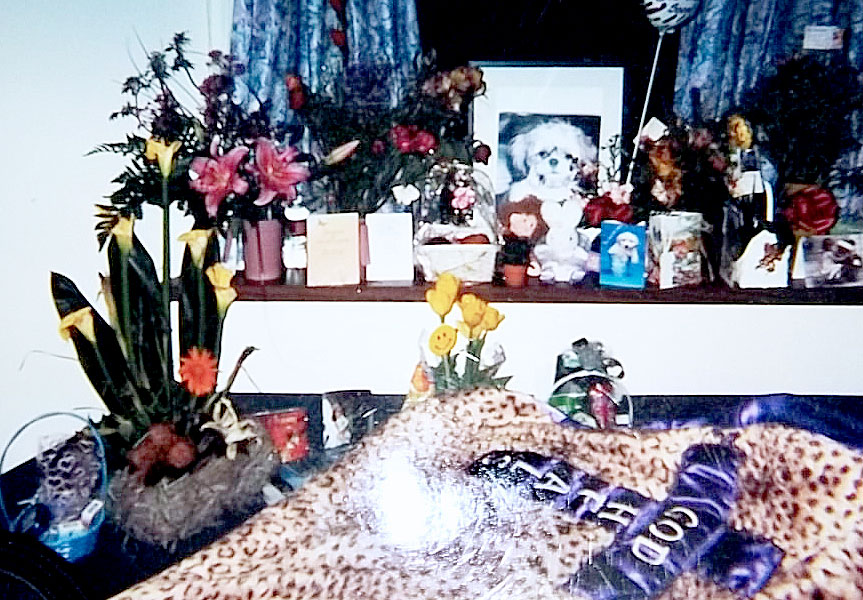 Donielle with blanket and her little dog Kahlua at Cedars-Sinai Medical Center in Los Angeles, California
Donielle loved her blanket and would not let it out of her sight. She even insisted on having it with her during surgery. Soon nurses, other patients and visitors took notice, and to my surprise a few people even asked me to make a blanket for their loved ones. "Wait a minute", I thought. "I am no blanket maker".
Change of Plans ~~~~~~~~~~~~~~~~~~~~
My plan for my life at the time was designing and making clothes for women.  As a fashion designer, I had already built up a small clientele. Business was good, and Donielle made it even better. She was a professional dancer and choreographer for many of the top artists – Prince, Michael Jackson, Cher, LL Cool J, Ron Isley, Madonna, just to name a few.  Many times she was in charge of costumes for the dancers and she hired me to assist her. And I must say that together we designed some absolutely fabulous costumes. I really felt designing women's fashions and glitzy costumes was my calling, but something about making this blanket felt better than any of the elegant gowns or glittery costumes that I had ever made. And what felt even more fulfilling was seeing that my little handmade blanket was actually nurturing and comforting sick and bed ridden people.
It was during this time that my heart and "my plan" began to change.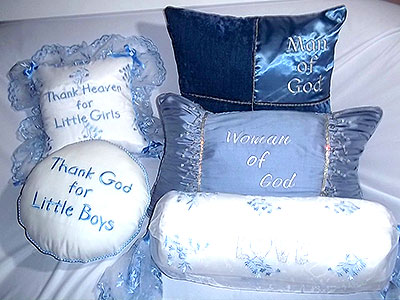 "Many are the plans in a person's heart, but it is the LORD'S purpose that prevails." Proverbs 19:21
Many of my friends and family told me I should start a 'prayer blanket' business. And so I did. I called it Wrap in Faith blankets. Starting my business was not easy. I experienced challenges at every single step of the way and there were many times when I wanted to call it quits.  But the thought of my daughter in that hospital bed smiling and fighting for her life gave me the courage to press on. Over the years, I gradually added prayer pillows to my business and eventually Wrap-in-Faith blankets became Pillows from Heaven. My collection now consists of over a 100 different styles. The majority of my creations are inspirational pillows. I now only make Wrap-in-Faith blankets by special request.
"Challenges are what make life interesting; overcoming them is what makes life meaningful"
-Joshua Marine –
My pillow business is about more than selling products. I am also led by the spirit of giving. For example, I created a special line of pillows designed just for centenarians that I give to them on their 100th birthday.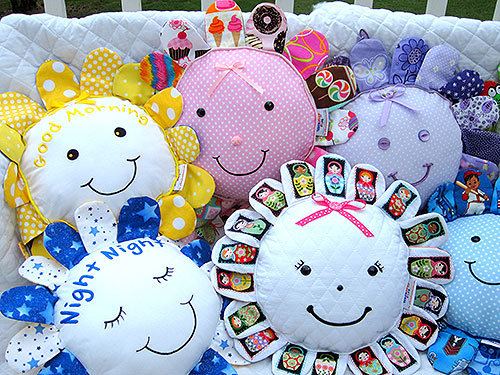 For Our Children ~~~~~~~~~~~~~~~~~~~~
I also have a collection of pillows called Happy Flappy. They are pillows designed especially for babies and children.
Whenever one of these pillows is purchased, a portion of the proceeds or a Happy Flappy pillow is donated to charities supporting sick and abused children.
Click here to view
The Happy Flappy Collection
~~~~~~~~~~~~~~~~~~~~~~~~~~~~~~~~~~~~~~~
It is such a pleasure to see that my pillows are making people smile –
surely this is God's plan.
~~~~~~~~~~~~~~~~~~~~
Demetria Lazarn