Tooth Fairy Pillow
» KIDS
»

Tooth Fairy Pillow
$25.00
Other than a dimple in a little kids chin, what's more adorable than a "toothless grin?
Call us overly sentimental because we definitely believe the tooth fairy ritual is a precious way of preserving childhood memories. So we decided to do our part to help the busy tooth fairy. We created a little pillow which has a pouch for holding the tooth and then the "loot", or a nice surprise. The ribbon is perfect for hanging it on the doorknob or bedpost. This little pillow is sure to put a big bright "toothless" smile on your kid's face. 
Included with each tooth fairy pillow is a poem to the tooth fairy:
In this pocket I will lay,
the little tooth I lost today.
Please, tooth fairy,
tonight as I sleep
leave me a surprise.
My tooth you can keep.        Signed: (kid's name)­­­­­………………………..
————————————————————————————————————————-
Especially handmade for you upon order: Please allow 2-3 weeks for delivery.
Our motto, AB4C keeps us working hard to help make this world a better place for kids.
We give both product and financial donations to organizations helping
abused children and children with serious illnesses.
AB4C has a new meaning… pass it on!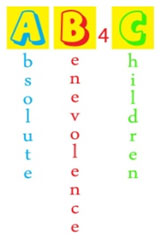 Description:

What makes this pillow so adorable?

It is designed with a pouch
The actually size of the pillow is 7" x 7"
Made with a variety of kid friendly fabrics.
The little happy face is machine embroidered.
We used premium polyester to fill it.
Can be personalized for $7
Best of all – it is handmade just for you.

Grandparent service: Want it wrapped and shipped to your grandchild? Give us a call.